Editor's note: The OnDebit blog is moving to a new platform. Stay tuned for new content as we improve your experience with even more helpful content.
Issuers Report Mobile Payments Talk is Turning

to Action:2015 Debit Issuer Study Respondents Agree

Apple Pay Changes the Mobile Payments Game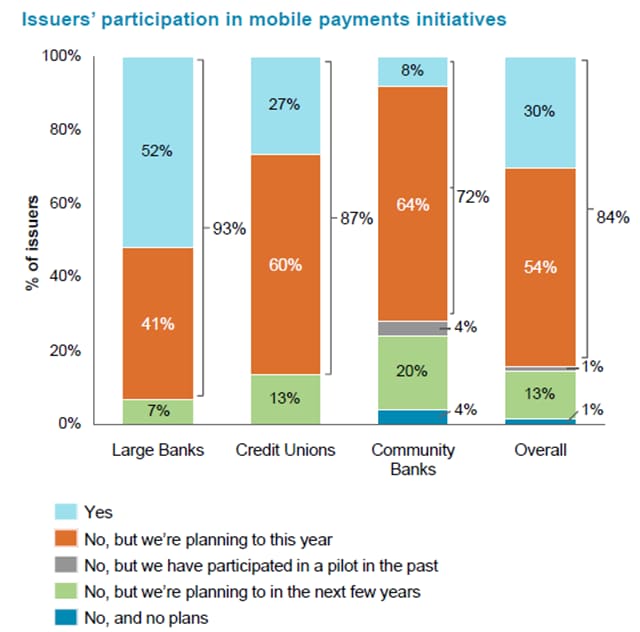 It wasn't so long ago that some questioned whether the chatter surrounding mobile payments was little more than hollow hype. What a difference the entry of a major player like Apple makes.
Respondents to the 2015 Debit Issuer Study, commissioned by PULSE, are broadly united in their enthusiasm about mobile payments now. Approximately 85 percent either currently participate or plan to participate this year in a mobile payments initiative.
There is less certainty about how big mobile payments will be. More than 70 percent of issuers project that mobile transactions will make up more than 15 percent of their debit payments volume within the next five years. About 40 percent project that mobile payments will represent more than 25 percent of volume over that time.
As one representative of a community bank predicted, "More participants in the market, along with additional devices being enabled, will drive growth to at least 25 percent."
Apple Pay a Catalyst
The launch of Apple Pay was a major turning point for the payments industry. More than 80 percent of respondents agreed that Apple Pay is a game changer. The study reports on the strong issuer interest and adoption:
Over half of large banks currently have debit cards that are capable of being registered for Apple Pay.
Overall, 30 percent of financial institutions in the study have debit cards that are Apple Pay-capable.
Perhaps just as telling is that only three percent of financial institutions have no plans to pursue Apple Pay.
The indisputable fact is that the vast majority of all financial institutions want to be in Apple Pay.
One study respondent from a community bank described the forces driving its push toward mobile payments this way:
"With all the big banks doing ads, we don't want to fall behind. We want to make [Apple Pay] available to avoid losing revenue and keep up with the Joneses."
Even so, initial use of Apple Pay was very low. At the time of the study, only 0.7 percent of eligible debit cards had been loaded into Apple Pay. On average, debit cards loaded into Apple Pay were used for 0.3 Apple Pay transactions per month in January 2015.
Branded Wallets Take Backseat
When asked whether they would rather promote their brand by pushing their own branded wallet or achieve top-of-wallet status in a third-party wallet, four out of five respondents said they prefer the latter. While more than half said they are interested in developing their own branded mobile wallet, 94 percent said they are interested in making their card top-of-wallet in a third-party wallet.
Clearly, the shockwaves from Apple Pay – and expectations that other third-party wallet players, like Samsung Pay and Android Pay, will add to market momentum – have most financial institutions applying great value to visibility in third-party wallets.
Remaining Uncertainties
WThe majority of issuers say they are uncertain about whether mobile payments will help or hurt their business.
Nearly 60 percent, say it all comes down to the bottom line. If the incremental costs from customer service, Apple fees and tokenization fees can be offset by savings from fraud mitigation and potential reduction in future card issuance costs, it could be a plus.
While a small percentage of study respondents say they expect mobile payments will hurt financial institutions by reducing profit per transaction, more than one in three said it will help. They are bullish about the potential for making transactions more secure and attracting higher-profit customers.
PULSE participants can learn more about the study's insights into the debit industry, including an executive brief on mobile payments, in the Debit Resource Center section of the PULSE website (login required).