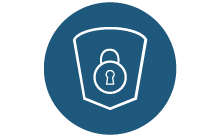 PULSE DebitProtect®
Authorization Blocking
Customized fraud-mitigation strategies with a dedicated analyst
A comprehensive fraud prevention service that uses predictive artificial intelligence and machine learning transaction scoring alongside rule-based strategies to identify and stop fraud threats. Your designated fraud analyst works with you to develop targeted, real-time fraud-blocking rules and alerts for your institution. A customized strategy is built for your institution's size, risk tolerance and regional footprint, with constant monitoring of performance and cardholder impact.
DebitProtect Authorization Blocking features and benefits:
Customized real-time fraud blocking for card-present, card-not-present, PIN, PINless, ATM, Discover® Debit and other PULSE transactions

Dedicated fraud analyst

Self-service emergency rules to stop after-hours fraud, without a fee

Ability to restrict and permit groups of cards for travel or legitimate activity

Card-group rules to manage cards impacted by skimmers, breaches and other compromise events

New, state-of-the-art FICO® Falcon® platform released in 2018:

Scoring based on supervised learning of 2.6 billion cards at 9,000+ institutions

Real-time cardholder profiling to reduce false positives

Real-time ATM profiles that detect fraud at specific ATM terminals to prevent mass cash out events

Early compromise detection and cardholder communication services scheduled for late 2019 release
A layered approach with DebitProtect Authorization Blocking makes your fraud-mitigation strategy more robust, with improved protection for PINless transactions, individualized settings for your institution and many other features. Pricing is based on the number of transactions, resulting in a cost-effective addition to your overall strategy.
Simply put, Authorization Blocking is the most effective way to stop fraud on the PULSE Network. You can make an immediate impact on your institution's losses by requesting more information or contacting your Account Executive today.