Downloadable Graphics Files
The PULSE acceptance mark versions shown on this page are intended to be used for reproduction purposes. Adobe Illustrator (AI) files should be used for decals and other professionally printed materials. Portable Network Graphics (PNG) files should be used for websites, Word files and similar materials.
To download logos
Right click the file type for the logo version you wish to download and choose "Save link as". In the pop-up window, choose where you wish to save the file and click "Save."
North America/Caribbean Acceptance Mark
North America/Caribbean Decals/Signage
Reverse, Controlled Background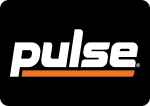 Positive, Controlled Background